Mr Kehinde Akinsola, the Kwara State Champion, Nigeria Youth SDGs Network (NGYouthSDGs) has said that to confront the issues of climate change and biodiversity loss, Nigeria requires a stronger commitment to collaborative action.
Akinsola said this at the CoP27 Youth Leadership Workshop held in Ilorin, the Kwara state capital.
He said that the world had come a long way in the fight against climate change and its negative impacts on the planet.
"We are now able to better understand the science behind climate change, better assess its impacts, and better develop tools to address its causes and consequences.
"At Nigeria Youth SDGs, we believe that young people have the ability to address these issues that are currently destroying our country in terms of participation in policy discussions and implementation frameworks.
"We believe youths have the ability to drive the dramatic change that our future requires in terms of how we live and work, and solutions on how to handle the challenges of climate change, pollution, flood, and biodiversity loss while scaling up effective change.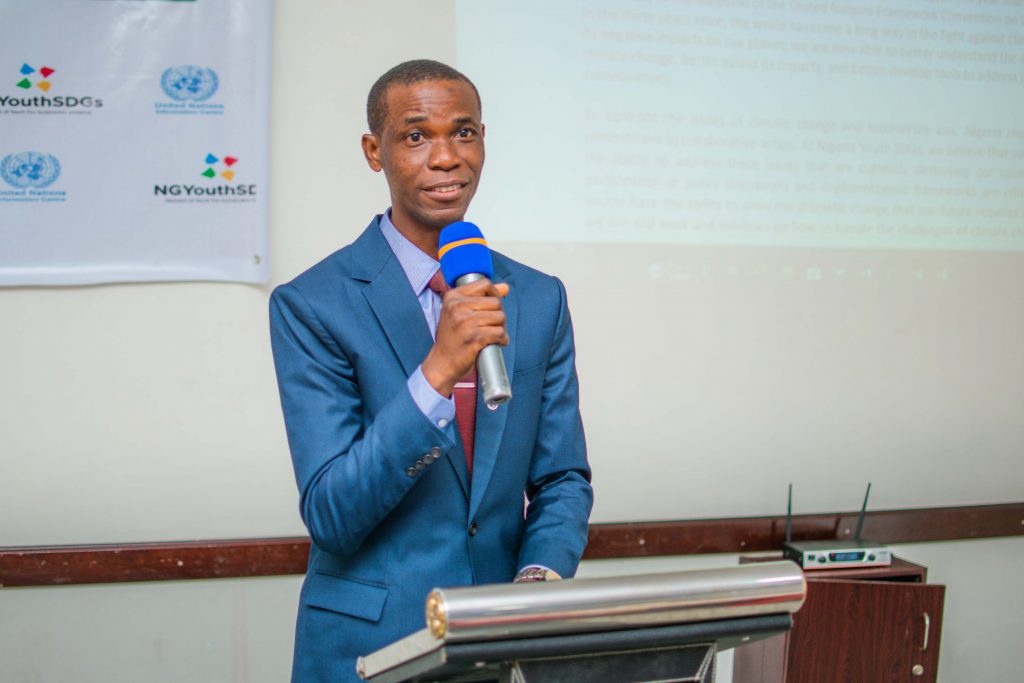 "We are implementing the COP27 leadership workshop with the objective to provide training and capacity building to youths from Nigeria's six geopolitical zones in order for them to develop the skills and means to engage in dialogue and express their ideas on climate issues.
"The workshop will take place in Adamawa, Kaduna, Ondo, Kwara, Anambra, and Rivers State", he said.
Akinsola said the solution to climate change laid within the earth, within minds and within human capacities. He tasked everyone to come together to take tangible steps in response to the greatest threat to humanity.
He said that the hosting of COP27 in the green city of Sharm El-Sheikh, Egypt this year marks the 30th anniversary of the adoption of the United Nations Framework Convention on Climate Change.
The Commissioner for Environment in Kwara, Mrs Remilekun Banigbe in her address said that climate change shifts in temperatures and weather patterns was a global phenomenon whose brunt is felt locally where capacities to cope are non-existent.
Banigbe said that there was need to identify how climate change impacted communities, conceptualize sustainable solution, identify plan of action, adopt a self-help approach, identify resources constraint for sustainable implementation and seek funding.
"We all must be involved in tackling climate change in our communities; more so the youths should make conscious efforts because their future quality of life is being undermined.
"Dr. Adrain Rubin wrote and I quote 'Saving the environment starts with us and it is our responsibility to act against these terrible changes to preserve the planet for future generations'.
"Arming yourselves with the above ammunitions will enable better engagements with world leaders in the forefront of climate action at the CoP27", she said.
The commissioner said local actions and interventions towards climate action included Green Commute.
"Riding your bike to work is also incredibly helpful to environment and is a great method to get exercise.
"Conservation of energy, sustainable waste management and education of yourself and others, can help protect the planet", she said.
Mr. Nicholas Uwerunonye a Climatic Observationist in his lecture 'Understanding Climate Policy and Taking Action' said that consistency was key to influencing people's decision towards taking actions.
Uwerunonye said that cooperation and persuasion in partnership would make people more receptive of climate action.
"Making people take climate action is like telling them to change their way of life and norms, which will come with some level of resistance, but with consistent and persuasive advocacy, it can be achieved", he said.
Another speaker, Mr Azeez Abubakar, aid that there was need for climate justice as well as educating people on environmental changes
Azeez said that there was need for adaptation and mitigation of loss and damages caused by global climatic changes.
Dr Lawal Olohungbebe in his lecture on advocacy tasked participants on research and information.
Olohungbebe said that there was need for advocacy and collaboration in order to achieve broad participation in climate action.
"Be informed, research about what you want to talk about, get convincing data and cross check.
"Identify those you can work with, consult with stakeholders and collaborate to achieve your aim of advocacy.
"You need to understand a community's calendar, mapping, language and greetings, dressing and of course identify targets for advocacy", he said.
Some of the participants, who spoke with News Agency of Nigeria(NAN) said community involvement in climate action is important to universal climate change.
Mr Damilola Adebayo said "As youths we have come to the understanding that we must take the future into our hands now.
"We should be involved in climate activities and environmental preservation", he said.
Miss Comfort Ojo said the workshop was an eye opener to the fact that the issue of climate change action is everyone one's business.
"Before now, when I hear about climate change, I usually think it is government's problem and decision to take, but now I realise it starts with me.
"Everyone especially youths should be passionate about climate action and be an advocate to environmental protection", she said.